Menu: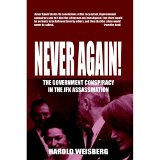 Use & Copyright
Hood College, the Beneficial-Hodson Library and individuals retain the rights to the digital images and original content presented on this web site.
Educational and Personal Use
The doctrine of fair use allows limited use of copyrighted material without permission from the copyright holder. Fair use includes comment, criticism, teaching, and private scholarship. Any images and data downloaded, printed or photocopied for these purposes should provide a citation.
Attribution
The use of material or data obtained from this site for public education efforts and non-commercial purposes is strongly encouraged and requires no expressed authorization. It is requested, however, that any such use properly attributes the source of the material or data as:


"Courtesy of The Weisberg Collection. Hood College, Frederick, MD, USA. URL: http://jfk.hood.edu/"

or a shorter version:

"The Weisberg Collection. Hood College, Frederick, MD, USA.

All other uses beyond those allowed by fair use require written permission from the copyright holder.
Publication Requests
Persons wishing to publish any material from this site must assume all responsibility for identifying and satisfying any claimants of copyright or other use restrictions. Publication fees may apply.
Reproduction Requests
The Weisberg Archive Collection material and data provided on this site is the only available format besides the physical collection. Due to restricted resources, no reproduction requests will be able to be accomodated.
External Websites
Links to external websites have been provided as additional resources. Visitors who choose to follow these links to external websites are responsible to familiarize themselves with the terms and conditions of use for these sites. By providing this external link neither Digital Library nor anyone associated with Hood College is in any way granting permission for the unauthorized use or distribution of this material. Similarly, neither The Weisberg Archive, the Benefical-Hodson Library, nor anyone associated with Hood College claims responsibility for the material that users find on these external websites.Users of external website materials assume all liability for any resulting copyright infringement and are advised to contact the institution holding the source materials for copyright information and permission to display, publish, or make use in any way of the digital materials found therein, except as allowed under Fair Use guidelines.
Links to the Archive
Links from websites to the archive and archive material and data are permitted as long as each link indicates the source as described in the Attribution section above.