Highlights
FOIAPA case, CA 75-226, includes the depositions of three FBI agents who were responsible for the Bureau's scientific testing of the weapon and the bullets that allegedly killed President Kennedy, and who conducted the spectrographic and neutron activation analysis of the physical evidence in the case...
Status
On-line
Links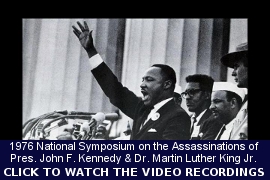 NEW!

We are proud to introduce an exciting addition to our collection. Courtesy of the Univ. of Wisconsin-Stevens Point, we now provide the digital recordings from the "1976 National Symposium on the Assassinations of President John F. Kennedy& Dr. Martin Luther King Jr."... more
The Collection
Through the generosity of Harold Weisberg (1913-2002), Hood College has obtained the world's largest accessible private collection of government documents and public records relating to the assassination of President John F. Kennedy. Using he Freedom of Information and Privacy Act (FOIAPA), Weisberg acquired from the government hundreds of thousands of relevant documents.
The entire archive is available in its physical form at the
Beneficial-Hodson Library
. A digitization project that started around 1994, has generated as of today, more than 85% of the archive in electronic form. The digitization project continues and the digitized portions of the archive are now available to
browse
and
search
on-line.
Holdings
250,000+ pages of documents, largely Warren Commission, FBI, Secret Service, Justice Department, and CIA records.
85,000+ pages of FBI documents on the assassination of Dr. Martin Luther King, Jr., and some material relating to the assassination of Senator Robert F. Kennedy.
Records of at least a dozen major FOIAPA lawsuits against the government.
Voluminous and valuable subject index file with Weisberg's collection of contemporary magazine and newspaper clippings, background research, and correspondence with other researchers and writers.
Find out more about the archive
here
.